HACCP 2020 (Hazard Analysis and Critical Control Points) is a globally recognized food safety risk management system. Its purpose is to ensure the safety and quality of food by identifying, assessing, and controlling food-related risks.
In Vietnam, HACCP 2020 is widely implemented in various areas of food production to meet international market requirements and enhance product quality.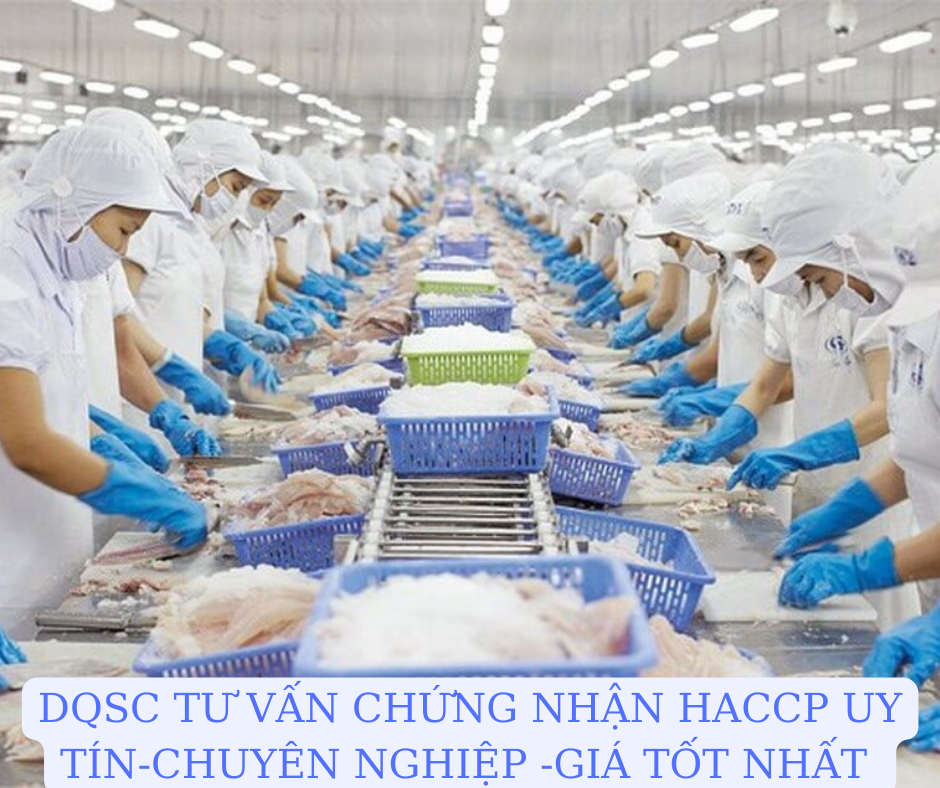 At DQS CENTER (DQSC), we offer comprehensive consulting services for HACCP certification, characterized by our commitment to prestige, professionalism, and the best price. Our team consists of experts with extensive experience in the food safety management system certification consulting industry. They possess practical knowledge gained from working in food production environments, enabling them to provide valuable insights tailored to your specific needs.
By choosing our HACCP certification consulting service, you gain several advantages:
-Competitive Edge: We help you establish an advantage over your competitors when acquiring new business orders, as HACCP certification demonstrates your commitment to food safety and quality.
-Hazard Control: Through our consulting service, we assist you in identifying and controlling food safety hazards, ensuring the highest level of safety throughout your production processes.
-Compliance: We ensure your compliance with food safety regulations, both local and international, helping you meet the stringent requirements of the market.
-Customer Confidence: HACCP certification serves as a testament to your organization's dedication to food safety. It demonstrates your commitment to providing safe and high-quality products to your customers.
-Social Responsibility: By obtaining HACCP certification, your organization showcases its commitment to being socially responsible, further enhancing your reputation and credibility.
Choose DQS CENTER (DQSC) for professional HACCP certification consulting services. Our experts will guide you through the process, providing valuable insights and support to ensure your successful implementation of the HACCP 2020 system.
DETAILS
Overview of HACCP 2020 Consulting and Certificate
HACCP stands for Hazard Analysis and Critical Control Point, is a food safety and quality management system based on the principles of hazard analysis and critical control in the food production process, ensuring food safety. safe for consumers. HACCP is implemented worldwide and applies to all food and beverage industries. In addition, this system is also applied to products currently consumed in the market as well as to new products.
However, it can be seen that HACCP certification is not only a hazard analysis and critical control, but also a tool to ensure prerequisites such as a Code of Good Manufacturing Practices according to GMP, regulations Practice of good hygiene according to the SSOPs, and other necessary requirements to ensure food safety and hygiene.
-HACCP is a solid foundation for ensuring food hygiene and safety. At the same time, it is also the basis of international law and good manufacturing practices in all areas of the food industry.
-HACCP also plays a particularly important role in helping businesses like yours conduct international trade. HACCP 2020 certification is considered as proof, proving that the enterprise implements hygienic food production and business in accordance with the requirements of the law.
What are the benefits of getting HACCP certification?
– As proof that your business fulfills its commitments to food safety.
– Is a toolkit to help your business manage food-related stages effectively.
– Build trust for customers and partners about the food safety of the products/services your business is producing and trading.
– Is your business's assurance to customers, consumers, and government organizations, commercial organizations that your control system is in place and plays its role in Food safety and hygiene?
– As the basis for your business to monitor the food safety system comprehensively and make improvements when appropriate.
– As a premise for your business to conduct international trade because HACCP 2020 is an internationally recognized standard.
– Periodic reviews help you to continuously monitor your food safety system.
Principles in consulting HACCP certification?
– Principle 1: Conduct a hazard analysis
Identify each potential hazard at the stages: preliminary processing, processing, distribution to final consumption. Assess the likelihood of hazards occurring and identify measures to control them.
– Principle 2: Identify critical control points (CCP: Critical Control Points). Identify critical control points at each stage of the food supply chain that needs to be controlled to eliminate hazards or limit their likelihood.
– Principle 3: Determine critical thresholds. Determine critical thresholds that must not be exceeded to ensure effective control of critical control points.
– Principle 4: Establish a monitoring system for critical control points. Develop a system of testing and observation programs to monitor the status of critical control points.
– Principle 5: Identify corrective actions to be taken when the monitoring system indicates that at a critical control point, inadequate implementation.
– Principle 6: Establish test procedures to confirm that the HACCP 2020 system is operating effectively.
– Principle 7: Establish documentation related to all HACCP program procedures and activities in accordance with the above principles and the steps to apply them.
12 steps to developing a HACCP system
St 1 Establishment of the HACCP 2020 team
St 2 Detailed description of the company's food products
St 3 Specify the intended use of the food
St 4 Diagrammatic description of the food processing process of the enterprise
St 5 Review, compare and re-check the process diagram
St 6 Conduct a hazard analysis
St 7 Determination of critical control points
St 8 Setting critical limits
St 9 Developing CCP monitoring procedures
St 10 Develop a remediation plan
St 11 Setting up the system test procedure
St 12 Establish record-keeping procedures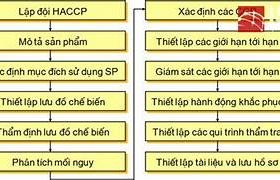 Dqs Center (DQSC) consulting for HACCP certification
To get HACCP 2020 certification, businesses need to invest both time and effort. However, there are many businesses facing difficulties and do not know where to start and how to do it.
Understanding this, DQSC is implementing a HACCP certification consulting service package to help businesses more conveniently in the process of implementing the hazard analysis system and critical control point to achieve this type of certification.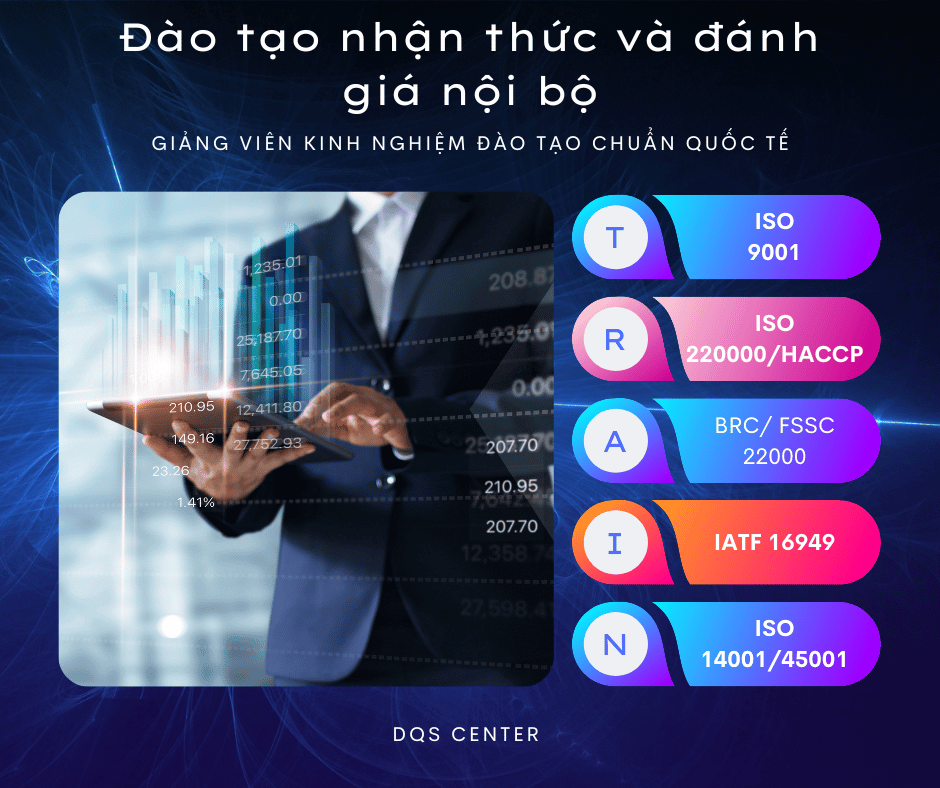 DQS CENTER is one of the few units specializing in providing HACCP certification consulting services on prestige and quality. It is an address that is trusted and highly appreciated by businesses.
Enterprise benefits when implementing HACCP certification consulting at DQS CENTER include:
1. Directly consulted by leading experts with full knowledge and capacity. Experienced in consulting certification for many businesses with different sizes, types and business fields;
2. Supported by a friendly Sales team, enthusiastically answering all questions and concerns of customers during the process of using services at DQSC
3. Professional service with competitive and reasonable cost. Ensure publicity and transparency
4. Committed to maximum support so that 100% of customers using DQS CENTER's consulting services can achieve HACCP certification.
5. Professional consulting team to support customers in the fastest and most convenient way, helping customers save time, cost, and travel effort.
GET CONSULTANCY & PRICE
For any questions related to consulting & certification of HACCP, ISO 22000, FSSC 22000, BRC V9, and other management systems, please dial 0812753919 for direct support from experts at DQS CENTER(DQSC). )
CERTIFICATE REQUIREMENTS
To be certified with HACCP 2020, businesses must be in the following business areas:
– Enterprises producing and trading seafood, food, and animal feed, …
– Food production and processing establishments, enterprises in export processing zones, and industrial food.
– Catering establishments, restaurants, hotels, and food-related organizations.
Contact us to begin your certification process:
Hotline: 0812753919
Email: dqscenter@gmail.com
DQS CENTER Co., Ltd
Address: No. 617, Nguyen Dinh Chieu Street, Ward 2, District 3, HCMC
Website: https://tuvanisovietnam.com