BRC ver 9 certification is often considered extremely difficult, but it is not as difficult as most food organizations have done. The BRC Global Standard for Food Safety ensures effective management and ensures product safety, quality, legality, and integrity.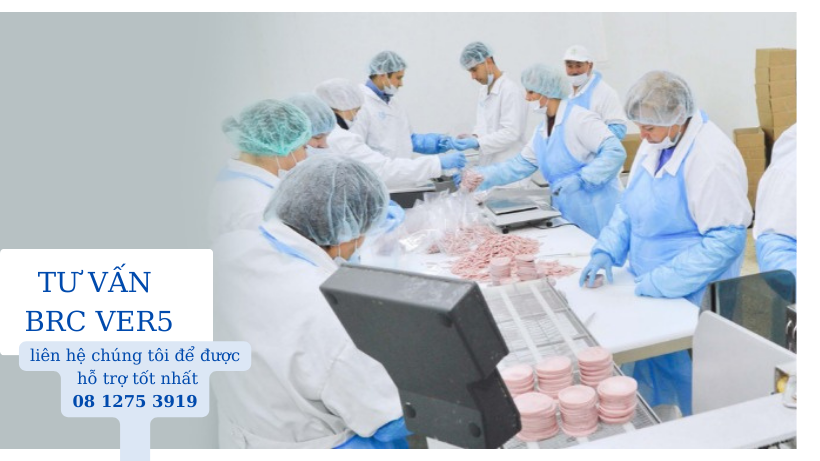 It provides guidance on product and operational control measures to ensure that manufactured products meet the defined criteria of the BRC Standard. Many people wonder, how can I achieve certification with this Standard? As a DQS Center Consultant (DQSC), we have compiled a list of steps that we believe can help you or your organization achieve certification.
Step 1: Statutory and legal requirements
The first factor to consider when starting a food manufacturing business is the statutory and regulatory requirements of the country in which you intend to sell the product. Many countries have specific and mandatory requirements for food businesses. Learn the relevant laws and regulations of your country to start a food business. Make sure you are familiar with the specific requirements relevant to your industry. If there are laws and regulations you need to comply with before commencing a food operation, make sure you are in full compliance.
The minimum statutory and regulatory requirements that may be considered are as follows:
o Food base and precise zoning
o Process flow, including raw materials, work-in-progress, end products, waste, packaging materials, personnel, water distribution, etc.
o Training of food handlers and handlers
o Pest control and waste management
o Building structure complies with relevant regulations e.g. Health and Safety etc.
o Provide resources to ensure safe food handling, e.g. refrigeration equipment, food containers, hand washing equipment, thermometers, personal protective equipment for employees, etc.
Step 2: Legality of the product
The food industry has evolved from simply producing food to processing various food products in the food supply chain. It has become easier for a person to become creative and innovative. Similarly, food safety risks also increase. To avoid food safety related incidents, one must ensure that the product they intend to manufacture complies with the required specifications of customers and the law. Consult relevant industry bodies, independent consultants and relevant government agencies if unsure what to do.
Step 3: Practice GMP
Once you have complied with statutory and legal requirements, you must comply with the requirements of interested parties. Interested parties may include customers, consumers, employees, audit agencies, etc. You can then define and implement operational standards that will assist in maintaining food safety practices within the business. These standards are known as Good Manufacturing Practices (GMP's). Good manufacturing practices are applied to reduce food contamination and maintain food safety in food handling facilities and include: Cleaning and disinfection, waste management, control of animals causing harm, personal hygiene and cleanliness, to name a few.
To ensure that your business effectively implements Good Manufacturing Practices, all employees involved in your business must receive appropriate training. Food safety training interventions are implemented to prevent food from being contaminated by any hazardous factors. Many reputable organizations are offering various training interventions. However, you will need to determine which training interventions are best for your company and its employees.
Step 4: Comply with HACCP
HACCP must be implemented to further improve food safety in a business or food handling establishment. HACCP considers the risks during food handling that can lead to food contamination. HACCP has 12 stages, with the first 5 stages called the preliminary stages of HACCP and the last 7 stages called the 7 principles of HACCP. HACCP is a preventive risk-based approach that ensures that you put in place controls for anticipated risks due to the nature of the process, the type of product handled and the environment. school where food is being handled. HACCP has been included in Requirement of the BRC standard (Food Safety Plan/HACCP).
Step 5: Different types of training are required
There are different types of training required for employees in the food industry. Here are the main food handlers and their training requirements:
The HACCP team should be a multidisciplinary team with members from different departments within the organization. The HACCP team must have advanced knowledge of HACPP and other specific product, process, and hazards. Other training measures that the HACCP team should have are a basic understanding of food safety, food fraud and defense, and allergen management.
Step 6: BRC basic requirements
There are basic requirements of the BRC Global Standard, which are: Senior Management Commitment, Food Safety / HACCP Plan, Internal Audit, Material Supplier Management, Corrective Action Recovery and prevention, Tractability, Layout, product lines and segregation, Hygiene, Allergen management, Operational control, Labeling and packaging control, and Training in areas for handling, preparing, processing, packing and storing raw materials. Audit findings on underlying requirements may result in facility closure or loss of certification.
Step 7: BRC Issue Vulnerability Check / Pre-Certificate Review
Before approaching a certification body, you may choose to conduct a Standards Review. This assessment will assist you in identifying vulnerabilities in your current system prior to an external assessment. This will need to be closed prior to certification. During the internal review audit, the Internal Auditor will review the management system currently in use and its operations. The internal auditor will then notify the organization of any nonconformity that need to be eliminated. The organization shall resolve all nonconformity raised before the certification body is invited to audit. The standard allows external consultants such as DQSC Company, if you need assistance.
Step 8: How to apply for certification and what will the Certification Authority require?
Once you have determined that you are ready, you can contact an Accredited Certification Body. Ensure that the Certification Body (CB) is deemed authoritative and approved by international accreditation bodies to audit the BRC Global Standard. . Certification Bodies use different assessments to assess whether a registrant/client is compatible with the Standard to which you have applied.
Most certification bodies will require the following:
As an Requester, you will need to fill out an application form provided by the CB or a suitable proposal outlining the needs of the organization that the certification body can provide. The certification body will also need business information, nature of the process, existing documentation, size of the facility, number of workers, shift pattern, location, product range, etc., to understand the structure of the organization.
Step 9: BRC Global Standard Accredited Certification Bodies
In Vietnam, the following agencies are recognized for BRC Certification: SGS, BV..
Step 10: What will happen in the BRC audit?
Auditors gather information through visual observations, document review, interviews, and Field Checks. The auditor will review documents, including procedures, policies, records, work instructions, and related information. They will ask you to confirm the information contained in these documents and conduct interviews with relevant staff as the subject of the assessment. Auditors will spend significant time in the manufacturing facility and conduct tractability reviews. In addition, the auditor will view product flow direction and label control.
After the auditors have gathered substantial evidence from the information provided and all observations in the establishment, they will decide whether your Organization is in compliance with the standard requirements. The organization shall ensure that all relevant personnel responsible for the food safety management system are present during the audit, i.e. food safety team leader, senior management, interpreters (if necessary) and tour guide. All FSMS records and documents must be readily available and verifiable.
Step 11: Actual BRC Certification
It is essential to understand the audit process for programmatic manufacturing, processing and retail businesses or businesses intending to obtain certification.
Pre-announced and unannounced reviews
Assessments can be made with or without notice. Published audits are performed based on a date agreement between the establishment and the certification body. An unannounced audit is when a certification body visits a site without notifying the organization in advance. Organizations have an option to rate informed or unannounced. For organizations that are not yet certified, unannounced can only be done after one year from the date of registration for certification.
Result of evaluation
Levels of nonconformity:
Serious conformity indicates a serious failure of food safety compliance or a legal issue, or a key finding that does not meet a key provision, does not meet a fundamental provision.
A serious nonconformity indicates a substantial failure to meet the requirements of the 'statement of intent' or any provision of the Standard. A situation is determined based on available objective evidence that casts substantial doubt on the suitability of the product offered.
A minor nonconformity indicates a provision that has not been fully met, but based on objective evidence, the suitability of the product is not in doubt.
Step 12: BRC  Certification Audit
Unlike FSSC 22000, BRC is an annual certification. Audit frequency is determined by the classification to which an organization is certified. Frequency can range from 12 to 6 months, where organizations with a high level of compliance are assessed every 12 months and those with low compliance or found to have many small signs of non-compliance . At least 2 or 3 points of serious noncompliance are assessed every six months.
The organization is responsible for conducting audits at a defined frequency to maintain certification.
Step 13: How to maintain BRC certification?
To maintain BRC certification, an organization first needs to be consistent in meeting the standard requirements by ensuring compliance across the board. In addition, the organization will need to ensure that recertification audits take place as scheduled. The results of the audit must be completed within the specified time period and the corrective actions should be sent to the certification body during follow-up. This demonstrates the organization's commitment to continual improvement of its food safety management system to maintain food safety.
Step 14: What industries does BRC certification apply to?
The BRC standard applies to various industries, including food and beverage, feed manufacturing and processing, food packaging, etc.
Step 15: Benefits of BRC ,Certification
Some of the benefits of BRC Certification are:
-International recognition because BRC is GFSI accreditation
-Independent, reliable assessment of food safety and quality systems
-Provide customer-acceptable reports and certifications in lieu of their audits, thus reducing business time and costs
-Increasing export contracts through BRC certification.
-Meeting customer requirements
-Create high trust with customers through BRC standard certification
BRC . Source
Contact us to begin your certification process:
Hotline: 0812753919
Email: dqscenter@gmail.com
DQS CENTER CO., LTD
Address:  No. 617, Nguyen Dinh Chieu Street, Ward 2, District 3, HCMC
Website: https://tuvanisovietnam.com